KES 2020 Graduation Goes Virtual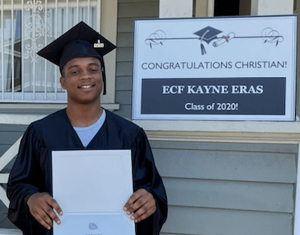 The 2020 elementary, middle school and high school graduating classes of ECF's Kayne Eras School had a physically distanced but emotionally connected celebration ceremony attended by families, staff, board members and friends via Zoom.
Weeks before the event, KES staff made the rounds to students' homes by van, delivering congratulatory lawn signs, caps and gowns to students and taking photos.
The High School graduation ceremony featured graduate student speaker Christian Kingsbury and special guests Raymond Keffer, David Shands and the poet "Life," of the Keffer Foundation, as well as Michael Eaves of ESPN Sports Center, who all provided inspirational congratulatory messages to the class of 2020 graduates.
Elementary and Middle School graduates participated in a ceremony held earlier in the morning, featuring exceptional student speakers, Middle School graduate Jacob Velasquez. Several students were presented with awards, for the Service Awards, Sports Awards, and Principal's Award.
Both events capped off with a "virtual" presentation of diplomas and celebratory recessional.
More than 125 students, alumni, families, friends, board members and staff participated in the Zoom ceremonies from their homes near and far to cheer the achievements of this special class of graduates!