Carvel Ice Cream Cakes Special Delivery for Two Exceptional Students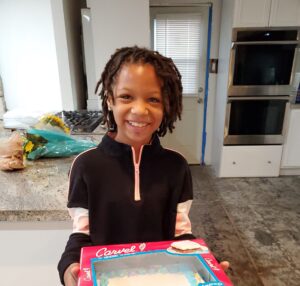 Carvel and Broadway star Idina Menzel partnered to send special birthday wishes to two ECF Kayne Eras students, Princess Davis and Morgan Baldwin over the summer.
Idina sent a special video message, and Carvel provided a surprise delivery of a delicious Carvel ice cream cake to each girl's home. The girls were so excited and enjoyed celebrating with the unexpected and tasty gift!
Our thanks to Carvel, Idina and ECF boardmember Monica Jaramillo for connecting with us and coordinating this wonderful treat for our students and their families at home during this time.