SUCCESS STORIES – Meet Morgan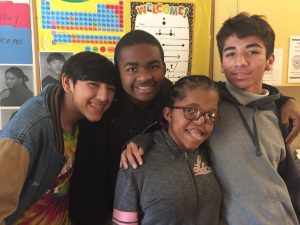 Morgan enrolled at ECF Kayne Eras School in 2017 in the 8th grade. She had tried many school settings prior to finding ECF KES—public, private and home schooling—but didn't find a setting that both challenged and supported her. Morgan was looking for an educational setting where she felt comfortable, and her mother wanted to be sure she found a school that could provide for her special needs and advance her academic achievement.  
When they toured ECF Kayne Eras School together, Morgan and her mother both knew they had found the perfect fit. Here, Morgan found a small caring group of classmates led by a dedicated, driven and determined teacher. Here, she has many supports, including counseling, occupational and speech therapy.
Morgan has blossomed at ECF KES. She has grown willing to take risks and try new things. She has real friends and real opportunities. Now that she is 16, she applied for the WorkAbility 1 program and looks forward to working at Centinela Feed & Pet Supply and/or TJ Maxx.
 "My Morgan is a very determined girl. She underwent craniofacial surgery as a toddler, but that didn't stop her from wanting to go to school. She was not going to let having an intellectual delay keep her from growing up like the other kids. Unfortunately, when Morgan was eight years old, we were told she would have to undergo another surgery, to help her brain grow properly. And, Morgan was crushed to hear that she wouldn't be able to attend school during her recovery. It was hard seeing her sad and alone.  When Morgan was finally cleared to return to school, I was grateful, but also concerned. She had so many special needs.
I was searching for a new school where Morgan could get the academic and emotional support services she needed. It was such a relief to tour the Kayne Eras School. It was clear Morgan would have all the help she needed.
I couldn't be more proud of the progress and personal connections she's made. She likes her teachers and she has good friends! She can't wait for high school.  I couldn't be more pleased and grateful that she is dreaming about her future."—Morgan's Mom, Michelle