Success Stories – Meet Carrion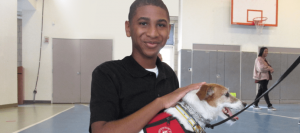 Seventeen year old Carrion has a smile a mile wide and is a popular student at ECF Kayne Eras School.
But when Carrion first came to the school eight years ago, he had been having difficulty keeping up in his large public school classroom. Carrion's health issues made learning hard for him. He was easily distracted and had difficulty remembering and following directions. He missed social cues that caused him to have a hard time making and keeping any friends.
At ECF Kayne Eras School, the combination of a highly-qualified teacher, counselors, a small class size and targeted enrichment program helped him develop more self-confidence, and helped him to understand peer cues to build relationships.
Now Carrion has many friends and he's discovered joy in learning. After participating in Unified Theatre where he worked on stage and performance skills, he discovered that he loves to sing and perform.
He's also become very interested in cooking, inspired by his Culinary Training class.
And, as soon as he turned 16, Carrion applied for the school's WorkAbility1 program, which has helped him gain greater confidence, along with work experience in the community.
Carrion's mother is a long-time active member and now president of the PTO at Kayne Eras School. She is proud and thrilled by Carrion's accomplishments, and looks forward to his ongoing advancement into ECF adult program opportunities when he graduates high school. "The goal has always been his independence and confidence as he becomes a young man," she says. "Thanks to the skilled support he's had at Kayne Eras School, I'm seeing that potential realized."